December 14th, 2011
I'm sure that each year, as you're putting ornaments on your tree, you get a little sentimental about certain ones. You pull it out and go "Awwww, this is from when….."
Well, I have several ornaments that have meaning to me and I thought I'd share them. I saw this idea on an other blog so I can't take credit for thinking of this blog idea myself! Lounge lingerie
1. Katelyn's First Christmas Ornament.
Awww… wasn't she cute? Being the first baby, I have several "Babies 1st Christmas 2005″ ornaments. But this one is my favorite.
2. Madelyn's First Christmas Ornament.
Sigh. Another "awww…" moment. Cuteness! I'll be buying Jocelyn an ornament this year!
3. Our First Christmas Together.
This is actually one of our engagement pictures. (JC Penneys. Before all the artsy, fun engagement pictures were popular.)  Our first "official" Christmas together was in 2000, the year we got engaged. I have an ornament that I consider to be our first married Christmas together but it doesn't include a spot for a picture. 200o was our real first Christmas together. Lingerie Costumes.
4.Remembering Our Troops ornament.
I think my inlaws gave me this ornament. I love it because it helps me remember each year to think of and be thankful for all our service men and women who won't get to spend Christmas with their families for my freedom. It's also a reminder to pray for their safety and return home.
5.Sock Monkey Ornament.
My family will laugh and get a kick out of this ornament. I had a sock monkey just like this one when I was little that was my "lovey". My great grandmother made it. I carried that thing around everywhere. I still have that poor, battered thing and it's falling apart. I've had to keep it away from my girls because they want to play with it. But, if I let them, he'll be in pieces in no time!
6. "Melissa" Ornaments.
My parents gave me several ornaments with my name on it the year before I got married. It reminds me of my last Christmas living at home with my parents. I think my mom gave me this one! Lingerie Dresses
7.Ornament From One Of My Favorite Students.
When I was a preschool teacher I got many wonderful gifts from my little students. I received this cute ornament from one of  my favorite the toddlers I had in my class when I was a toddler teacher. I just love the simplicity and quality of this ornament. Wait. Did I say favorite? Of course we didn't have favorites! Psshhh.
8. Katelyn's First Homemade Ornament.
Katelyn made this angel when she was four and at her little preschool she went to three days a week. It's missing a wing but I think it's so cute. Maddy has yet to make an ornament but when she does, I'll be hanging it up!
9. Dunkin' Donuts Ornament.
This ornament was given to me by either my inlaws or my friend. If you know me, you know how much I LOVE Dunkin' Donuts coffee. Mmm.
There you have it! What are some of your favorite ornaments?
December 8th, 2011
Now that we've had children we've really had to think about the how and what of Christmas. How do we teach the girls the real meaning of Christmas? How are are we going to keep it Christ centered? What are we going to tell them about Santa?
A couple of years ago I learned about the Elf On The Shelf. I thought it was a really cute idea. You buy this little elf and hide him around your house each night so your kids can find him in the morning. You tell the kids that the elf is "always watching" and will tell Santa if they are naughty. The kids enjoy trying to find the elf's new location every day and are more aware of their behavior and how it might affect what they will get for Christmas. I thought this was a cute idea so we got one. My girls named him "Diego".
See him? He's trying to blend in with all my other ornaments, waiting to be found by Katelyn and Madelyn.
We liked the Elf On The Shelf idea until we started thinking about how wanted to "do" Christmas for our family as our kids were growing up. Did we want Santa and his Elf to be the main focus? Did we want our girls to base their behavior on "Santa watching" and being put on the naughty girl list and therefore get less presents for Christmas? After our girls started getting  a little older and understanding more what Christmas was about we really wanted to make Christmas only about Jesus. And family. And thankfulness.
We were finding it hard to focus on Jesus when the girls were thinking about Santa and getting lots of Christmas presents. Katelyn started really asking about Santa so we finally told the girls the truth. They weren't really bothered by it. Plus, they were still young enough for it not to rock their world that the jolly man didn't really exist! We did give them the order that they may NOT TELL THEIR FRIENDS THE TRUTH ABOUT SANTA.  We explained that many children still believe in Santa and that they would ruin the surprise if my girls walked around telling their friends he doesn't exist. I know that "doing Santa" is a personal decision for each family and it's not my job (or my children's) to take away that choice from them.
We haven't erased Santa completely from our home.  We are actually going to learn about Saint Nicholas and who he was and where Santa originated from. The character of Santa is actually derived from a man who did some wonderful and charitable things!
We still read stories about Santa and watch Christmas cartoons with him in it. Then there's the Christmas songs on the radio. But we do all of these things knowing  that the spirit of Christmas is Jesus. And we read lots of books and listen to lots of Christmas songs that talk about Jesus' birth and real reason for the season. I will share some of the Christ centered Christmas activities we're doing in a later blog post.
These are some thoughts we had that really helped make the Santa/no Santa decision for us:
1. Do I want my kids being good because it's the right thing to do and GOD is watching? Or because an Elf is going to tell Santa about how good or bad my kids are being and that reflects on how many gifts they are getting. I didn't want my girls only focused on getting lots of gifts.
2. How could I, in good conscious, let Santa play the starring role on the day we celebrate our Savior's birth? I felt like trying to do both would only confuse our girls.
3. In trying to teach our girls responsibility with money, being happy with less and being thankful for what we do have, I want them to know it is us who buys them their gifts. Not only do we want to set a good precedent but I don't want Santa getting credit for our hard work! And trust me, our girls get plenty of gifts.  Whether they get 5 or 15 gifts we want them to be thankful for their gifts and understand that hard earned money was spent on their gifts. And that our family isn't going into debt so they can have a ton of gifts to open.
4. We want them to understand that their behavior is not going to affect how many gifts they get. Being extra good isn't going to get them more and more gifts and being "bad" isn't going to make us buy them less. We're not going to hold a grudge the whole month of December for any kind of naughty behavior and on Christmas morning give them a lump of coal. Our parenting should reflect love, mercy and grace. We deal with naughty behavior as it happens, they apologize and all is forgiven. We don't keep a Naughty Or Nice list.
The elf still makes his appearance each Christmas season. But it's not to keep tabs on my girls' behavior. Each night I hide him before I go to bed and the girls can't wait to wake up the next morning and try to find him. Then once he's found they hide him for me. I think this will be a fun tradition to start.
I write this blog post to share with you how we celebrate Christmas and "do" Santa etc. Not to judge or tell others how they should do it. As I mentioned before, each family has to celebrate Christmas as they feel lead to. I hope I was able to coherently and concisely convey my heart on this subject!
How do you celebrate Christmas? Do your kids believe in Santa?
December 2nd, 2011
Meet Quatro! Or, as my husband likes to call him/ her "Mucho Quatro". Our friend Marian came up with this name for our little guy or girl until we know what gender they are. This ultrasound was taken 2 (almost 3) weeks ago. See? Quatro is waving hello!
I'm 13 weeks and 6 days so thought I was time for an update! There are no pictures of me since I didn't stop looking pregnant after I had Jocelyn so I won't be posting pictures until I actually look like where I'm supposed to be in my pregnancy. Which probably won't be until 6 months! Haha.
So far this pregnancy has been going well. We still can't believe we're having number four and that it happened this quickly. I'm out of the first trimester which I'm so thankful about. More for the whole "past the critical stage" than because of nausea and fatigue. Fatigue I pretty much have all the time ( hello, 8 month old who doesn't sleep through the night yet) and nausea I've never really suffered from too much. (Please don't throw things at me!) I've been blessed in that area, I guess.
At 11 weeks I did have a little scare. I started randomly bleeding one afternoon and almost had a heart attack.  This was, of course, the day after I got the above ultrasound taken and everything looked great.  The bleeding  went away thankfully and never came back! Of course I wanted to rush to the doctor and demand another ultrasound to make sure everything was ok. But, I have to trust that the Lord has this baby in the palm of His hand. I'm assuming everything is still ok and I go for my OB appointment today. I'm praying for another strong heartbeat in there!
I've had several almost migraines and have literally begged God to keep them away! Thankfully no full blown migraine yet. Those are  the bad side affects of pregnancy I dread.
I've been diagnosed  with Gestational Diabetes already. I have to go back to testing my glucose levels four times a day and eating a carb restricted diet. It hasn't been too bad. I've already lost five pounds! It's sad I need to be pregnant and get Gestational Diabetes to lose some weight. He he!
I've definitely been a little stressed over being pregnant and trying to take care of a baby, preschooler and 1st grader. Homeschooling has definitely not gone as smoothly as I would have liked this year so far. But, I'm slogging away! When my days get a little crazy I really start to feel God's peace about not having any more kids. I mean, really. I'm having to say "no" to so many things right now. And I feel so guilty about it, but that's the way it goes at this point in our life. I can't have any more stress in my life right now. I have to focus on being pregnant, taking care of Jocelyn and the two big sisters and homeschooling. And let's not forget taking care of my house!
God is good. We're so thankful for this new little life. We can't wait to find out what we're having. Hopefully in January!
Will it be a Logan? Or some- other- girl- name -that- we -can'- agree- on -right -now? (Yeah, pray for us in the girl baby naming area. If this baby is a girl she may go nameless for the first few days of her life. We can't agree on anything!)
Thanks for the support and prayers.
November 30th, 2011
*Photo courtesy of Photo Bucket
Yay! It's that time again. The halls are decked, the tree is (almost) up, Christmas music is on and I'm starting to see Christmas lights up everywhere. It's Christmas time!!
As usual our family is trying to find ways to make sure we celebrate the true meaning of Christmas and don't go into this season rushed, over committed and in debt. I've already had to say "no" to a bunch of things. And, oh, the guilt!! Being pregnant and trying take care of a baby and homeschool a 4 and a 6 year old is pretty much all I can handle right now!
Are you the type who has a ton of activity during the month of December?  We did one year and it was the WORST. Mike and I were fighting all the time. We were constantly rushing out the door to be here and there. Even Christmas day was stressed. We both said " never again!!". So, even though I love to do all sorts of Christmas-y things we aren't filling our weekends with places to go.
This year we have our homeschool co-op Christmas party which should be a lot of fun. We're going to a nearby town's Christmas tree lighting ceremony. Our church choir sings for it and it's always a fun event. A friend and I are attending our church's Christmas concert and dinner. Usually I would be singing with the choir but this year I had to choose between singing in the choir or taking my girls to AWANA so I chose AWANA. I am still looking for maybe one or two other fun Christmas-y events to go to but that's it.  I have a bunch of fun projects to work on for our homeschooling time. The girls are going to make some gifts this year and we'll do some baking.
I wanted to share with you some of the ideas we'll be using this year.
1. We'll be making this neat printable advent chain this year from Spell Outloud Homeschool.
(UPDATED! I had the wrong advent chain posted before! Oops.)

*Photo courtesy Spell Outloud Homeschool
LOVE the daily scriptures to read with my girls.
2. I really also like this Jesse Tree by the Life….Your Way blog.
*Photo courtesy of Mandi Ehman
I've seen other Jesse Tree ideas and they were a little too hard for my girls at this age. This is perfect for them and much simpler. The girls have been collecting twigs and sticks for our Jesse Tree.
Each day we'll do one ring from the Advent chain and one ornament from the Jesse Tree to start out our morning. I can't wait!
3. Some crafts/baking we'll be doing:
This adorable craft stick Christmas tree
Snow globes made our of baby food jars.
These beautiful and delicious looking candy cane marshmallow treats.
Ice Cream Cone Christmas Trees! How cute are these??
By the way, these are all ideas I got from Pinterest. Sooo in love with this site. You can check out  and follow my boards and especially my Fun Holiday Crafts/Cooking For Kids and Holiday Ideas For Mommy boards. I'll be pinning away the cute stuff I find!
Here are some great blog posts with wonderful Christmas ideas and resources:
30 Advent Ideas from The Duty Chronicles
Christmas Ideas and Planners from The Peaceful Mom
101 Days Of Christmas by Life…Your Way
You can also check out the crafts I did last year with my girls here and here.
I'll be sharing more ideas and resources as I go along! Once I get my house all decorated and my tree up I'll share some pictures of that. I pray this Christmas season is full of joy and celebration of Jesus this year.
How's your Christmas season looking? Are you stressed already?? What activities and events will you be participating in?
November 17th, 2011
I know, I know……… it's almost Thanksgiving and I'm doing a Halloween Recap. I'll probably end up doing my Thanksgiving recap around Christmas! He he.
I just wanted to show everyone how cute my girls looked in their costumes and share a craft we did. As I've mentioned before, I love doing Halloween activities. We do some fun crafts, go to Trunk Or Treat at church (which is open to our whole community) and then go Trick or Treating on Halloween night. All innocent and fun. Is that " celebrating" the pagan side of Halloween? In my opinion, no. As a Christian, I have no issues with that side of Halloween. My girls enjoy and have fun and have no idea about the reasons others don't do Halloween. Anyway….moving on!
Here are my girls in their costumes. I think they look quite adorable! We have a Renaissance Princess, Ice Cream Cone and Southern Belle.
My adorable ice cream cone. Don't you just want to eat her up??  This costume was very hard to get on and off her so this was the only time she wore it! (Trunk Or Treat day)
Here are a few pictures from Trunk Or Treat at church. It SNOWED in October (grrr) on Trunk Or Treat day so everyone had to decorate tables inside the fellowship hall instead of their trunks. It still worked out wonderfully and we had a full house of little costumed children. This awesome family went all out with their Star Wars themed table.
R2D2 even made an appearance!
There were so many creative tables full of activities and treats for the kids. It was a wonderful way to share Jesus with our community. We had a table too. It was probably the most simple and quite lame! Haha. Our theme was soccer. And we somehow managed to make it not cool. The one saving grace was that the kids loved kicking the ball into the mini soccer nets. And we had great candy . Here's a picture of our table with the decorations falling off. My hubby was supposed to be the goalie.
Next year. We'll do better next year!
I usually do several pumpkin and silly-spooky crafts for Halloween with the girls. This year we only got the chance to do one. (Did I mention it's been a lot harder to get homeschooling done with a baby??) The girls really enjoyed making this Jar Jack 'O Lanterns. All the painting they got to do made up for the lack of anything else.
We started of with clean, medium sized jars. I cut out Jack 'O Lantern eyes and mouths with masking tape and taped it to the jars.
The girls then painted over everything with orange paint. The top of the jar they painted green.
When they were dry I peeled of the painted tape and it left a Jack 'O Lantern face! Then we put little tea light candles in them. They came out pretty cute. I can't take credit for the idea. I think I got it from Family Fun Magazine.
These pictures are from Trick Or Treating night. We go every year in my inlaws' neighborhood where they've known everyone for years.  This was Jocelyn's first Halloween and Trick or Treating.
We ended up putting Jocelyn in a slightly too big cow costume we already had for the night. It was warm and a lot easier to put on than the ice cream cone. She still looked really cute!
The girls with their candy loot and red cheeks and noses. It was cold!! Jocy and I walked with the girls for a few houses then I went back inside because Jocelyn was getting fussy. The girls finished Trick Or Treating with Daddy and Papa.
Now….Thanksgiving!
November 15th, 2011
I couldn't let another Top Ten Tuesday go by without mentioning what I'm thankful for this month. It being Thanksgiving and all. And yes, I know that a lot of these 1o- Things- I'm -Thankful for lists seem to be the same each year. But that doesn't mean I should praise and thank the Lord for them. It's so important for us to list and be thankful for all the blessings we have. It reminds us just how well off we are and takes our minds of the little things we can get grumpy about.
I am thankful for:
1. My salvation! I will always and forever be grateful for Jesus' death on the cross, and His grace and mercy towards me.
2. This little guy (or girl) who we're calling "Quatro". I had my first ultrasound yesterday and this baby has  strong heartbeat and looks perfectly formed and healthy! And very active. I'm thankful that God has given me 11 weeks of a great pregnancy so far.
Although we were so shocked to find out that "we" were pregnant again it was so awesome to see that God surprised us with our last child. That our last child came about in this way. A wonderful surprise!
3. Jocelyn Abigail's birth this year. She has been such a blessing and joy to us. We love her to death and I can't imagine our family without her.
4. My two big girls, Katelyn and Madelyn. They turned 6 and 4 this year. They are a source of laughter, comedy, joy and challenge to me each day. Challenging as they keep me on my toes with their questions and clever minds.
5. Celebrating 10 years with my wonderful husband this past August. I couldn't imagine anyone better to spend another 10 years with!
6. Our second year of homeschooling. After Jocelyn came along it definitely threw some obstacles in the well oiled homeschooling machine I had going before. But I still love it and want to continue as long as I can.
7. Our wonderful homeschooling co-op we go to each Friday.
8. My family ( parents, siblings, inlaws , grandparents, aunts, uncles and cousins). I'm so blessed to have such wonderful, godly, good people in my life! (These pictures are from our trip to see my family in this past September, in Texas)

(My wonderful inlaws who live close to us)
9. Electricity and modern amenities. After losing our power for 2 days ( many days less than a lot of people around me!) I am so thankful and spoiled with all the technology and gadgets I have.
10. My health and that of my family. It seems like more and more people around me are getting very sick, cancer or their children are being diagnosed with cancer or other terrible diseases. It's heart breaking. I'm so thankful that the Lord has allowed us all to be healthy. I don't know why He allows some great people and children to get sick and others to remain perfectly healthy. I'm just thankful every day for my health and that of my family and loved ones.
" Praise the Lord! Oh, Give thanks to the Lord for He is good! For His Mercy endures forever. Who can utter the might acts of the Lord? Who can declare all His praise? " Psalm 106:1-2
I wish all of you a most blessed and happy Thanksgiving!
This post is linked to Top Ten Tuesday by Oh Amanda.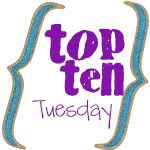 November 14th, 2011
How do you know when you're done having kids?
I've been really struggling with this decision here lately. The more I pray about it, the more I have peace. With me being pregnant with our fourth, I know mentally and logically that I couldn't handle more than four kids with the pace of our life.I'm not even sure how we're going to do the homeschooling thing next year! My husband works long hours so I'm alone with the kids all day. I pretty much have to take them everywhere with me since Mike is literally not home during the week to watch them for anything. Most nights they go to bed before he gets home. I don't have any of my family here to offer help and support and my inlaws are getting older so they are at the point where they won't be able to watch all 4 at once. Especially two babies!  So, I should be done.
Emotionally I keep thinking " What if I want just one more down the road?". The more I pray about it the more I have peace.  And especially on the days when it gets crazy around here. But…..
We've decided that while I'm on the table for my c-section we'll go ahead and get my tubes tied. That seems so final!!  At first I was ok with that decision. Then I started getting more and more sad at the thought. I actually cried for a couple of days about it.
Then I figured out it's not really the fact that I won't be able to have more kids that bothers me. It's the fact that this is the end of my child bearing years. The end of a great era. This is the last time I'll be pregnant and giving birth. The last time I'll excitedly take a pregnancy test and cry with joy over  (finally) seeing the words "pregnant" on them. The last time of great anticipation over the upcoming birth and meeting this new little life.
When I first got married having our first child and subsequent one seemed so far away. It was an exciting, new world to come. Then I had Katelyn. My first child! Joy! But I knew I would be having at least two or three more. Now that I knew what my first child would look like….what would the next one look like? And the next? What would their names be? Would they be a boy or a girl? I was still in my twenties and having more children was a wide open adventure to come.
Now I'm in my thirties and I've had three of the four children I've always wanted. God has completely and abundantly blessed me with these miracles of life. And with the fourth….he blew us out of the water!! We were so surprised and really not expecting the fourth one so close to the third one.I just never expected  the end of my child bearing years to come so soon.
And I feel like I must enjoy every last second of this pregnancy. Since it's my last. I feel like Jocelyn was just born in March and now she's almost 8 months old. I know this fourth baby's first year will fly too.
And that makes me so sad. I've always, for the most part, had a baby or toddler around. Or the plans and attempt at having another baby. But now I'll be slowly getting rid of baby stuff and will one day, no longer have a baby, toddler OR baby stuff in the house any more. And no plans on having any more. Now I get to watch other women announce their first, second and third ( and so on!) pregnancies and remember what it was like for me.
And that makes me really sad some days.
But.
The more I've prayed about it the more the Lord is assuring me that this is the right decision. I'm at the end of one era of my life but he's going to bring me many more fun ones with my kids as they get older. I so enjoyed my girls as babies but I know that's not the only fun stage.
And the idea of clearing out my attic of baby stuff and all the bins of baby clothes I have up there gives me a little flutter of joy. And thinking of my girls ( and future boy or girl) all playing together also seems fun. One day we'll be able to go to Disney World and they'll all be at the age where they can enjoy it. Or, at least, most of them anyway.
So, my quiver is finally full. I'm richly blessed. A little melancholy.
But I know it's the right decision for us. Our family is complete.
If you're done having kids, did you struggle with the decision? Or did you absolutely know with certainty?
October 27th, 2011
Unsubscribe. That little choice hidden to the right of your Facebook friends' statuses. One where you have to hover to the right until you see an "x" and then get a few choices of what to do with this Facebook friend.
I have 419  "friends" on Facebook. Are they all really my close friends? Of course not! Can I keep up with all of them? No.  There are the family and friends who I comment on and keep in touch with every day. Then there are those who I occasionally comment on. Then there are those who've I've only ever clicked "accept friend request" and then never heard from them again or them from me.
In the past few weeks I've tried to decide what I want to get out of Facebook. Why am I on Facebook? It certainly lends itself to a fake sense of  acceptance and popularity. It's easy to get on Facebook and feel like you have a lot of friends and people who care about you and to get lost in the Facebook world. But then you come back to reality and realize the only time you talk to 3/4 of your "friends" is on Facebook! You never actually see any of these people or develop a real personal relationship with them. Don't get me wrong; I know that distance is what keeps many people from interpersonal relationships and that's what makes Facebook such a great tool. I've actually been able to get to know some of my friends even better through Facebook. Women I probably would have never made a connection with otherwise. That's pretty neat! And a great way to use Facebook.
I'm not bashing Facebook. I love it! I LOVE keeping in touch with my family and seeing pictures and finding out what's going on in their every day lives. I love connecting with old friends from Brazil. I love being able to post pictures and statuses of my kids for everyone to see. I love following blogs I enjoy with great information for me. I've whittled away many a half hour throughout the day on Facebook.  It can be a fun place. Or it can be a negative, frustrating and shallow place.
I've decided I want Facebook to be one of my "happy places".
Getting back to the unsubscribe button.  With 419 "friends" on Facebook, you know that there are tons of different types of people, beliefs and opinions floating around in my news feed. Do I honestly expect to agree with every single one of those 419 people on Facebook? Of course not!
Enter the unsubscribe button.
It brings peace and sanity to my Facebook world. Once you hit "unsubscribe" that person's statuses no longer show up in your newsfeed. You are still Facebook friends with them, you just don't see what they put in their status unless you specifically go to their Facebook page. I like this choice better than "un-friending". Un-friending is very final and it takes a lot for me to un-friend someone!
In the past few years I've noticed that my level of irritation has gone up when reading Facebook statuses. It's not only a place for sharing pictures and what's for dinner. Now it's a place to push agendas, politics, and opinions on religion, morality, lifestyles and even parenting! There for a while I wanted to get in there and throw my opinion around. But I've tired of that and no longer have the desire to enter the ring.  There are days where I get completely outraged at statuses and comments left by my Facebook friends. I love my Facebook friends. I don't want to feel this way when reading anyone's statuses or comments!
I want it to be one of my happy places. Not the place I go to  to roll my eyes, get angry, insulted, or have my conservative political, religious beliefs, lifestyle or parenting mocked or condescended.
So, I click "unsubscribe".
If there's a person who only posts political stuff I don't agree with?
Click. Unsubscribe.
If all you do is share links that mock my faith?
Click. Unsubscribe.
Statuses that are full of boyfriend/girlfriend drama that is best kept in between yourself and your boyfriend?
Click. Unsubscribe.
Statuses that are full of foul language all the time?
Click. Unsubscribe.
I don't want these kinds of things cluttering my news feed or my mind. I don't need it! I don't have time to go back and forth on Facebook debating politics, religion or why you're parenting is better than mine.
I've decided to stop commenting on any of the things mentioned above if I see them and I also decided I won't be sharing links to articles or blog posts that might be "inflammatory". You might see me "like" different people, thoughts and beliefs here and there but I'm not looking to argue about why I "liked" it. To me, that's not what Facebook is for. Yes, I have strong opinions about a lot of things. No, I will not be touting them on Facebook anymore. Some people enjoy fiery debates, controversy and pushing their opinions all over Facebook. It's fun for them. And that's great. I'm just not one of those people.
Everyone has the absolute right to post WHATEVER they want on Facebook. No question there. But I have the absolute right not to have to read it. Just as everyone has the right to not read what I write! The unsubscribe button is right there next to my posts.
I'm the person who does want to know what you're reading or watching. How your kid is the most perfect, cutest thing ever. (Other than my kids of course. Haha) How your dog is sick and that your baby puked on you this morning. And, yes, even what you're having for dinner. I want to hear your prayer requests and pray for you. I want to read how you had a fantastic day or how it kinda bummed you out.
I'd much rather read all of  that than how you think anyone who supports the presidential candidate I've chosen must be selfish and ignorant. Or that you think my religious beliefs are narrow minded and that I'm a terrible mom for not breastfeeding for a year.
This verse sums up my thoughts on Facebook for myself:
Summing it all up, friends, I'd say you'll do best by filling your minds and meditating on things true, noble, reputable, authentic, compelling, gracious—the best, not the worst; the beautiful, not the ugly; things to praise, not things to curse. Put into practice what you learned from me, what you heard and saw and realized. Do that, and God, who makes everything work together, will work you into his most excellent harmonies.
Philippians 4:8-9 (The Message version of the Bible)
Unsubscribe. It's a beautiful button that brings peace and harmony on Facebook.
How about you? Are you heavy handed with the unsubscribe button? All for fiery debates and opinions? Are you an "un-friender"? Don't care either way?
I welcome your thoughts and comments on this subject. Please be kind and respectful.
And, as always, anyone is free to unsubscribe from me!
This post is also linked to Things I Love Thursday at The Diaper Diaries.
October 19th, 2011
I am so behind on blogging it's not even funny. But I'm really trying to remedy that. It's 6:34 am and I've already read my Bible, prayed and had my coffee! Now I'm blogging! (And I'm already hearing little voices upstairs….).
This past August and October both my oldest girls turned one year older. Sniff!!!
Madelyn turned 4 and Katelyn turned 6. I never wrote any kind of special posts dedicated to them so here's my attempt to fix that.
We had a BBQ birthday party for Maddy ( the poor thing is probably always going to get that type of birthday since her birthday is a Summer birthday in New England)
The birthday girl
True to Maddy's nature, she mostly hung out with her Papa the whole time. She wasn't much for joining in the group games.
She did, however, choose to participate in playing with water balloons.
Story behind this cake: Tried to make her cake, it crumbled upon trying to remove it from the pan.FRUSTRATED. Bought one from Sam's. Yummy cake.
Maddy has grown so much in the past year! She still continues to be my shy, quiet, loner cuddle bug. She's content hanging out at home playing with her toys. We've tried to push her a bit by signing her up for soccer and AWANA. She's hates the first and tolerates the second. We love her so much and wouldn't have her any other way! God blessed us with our little blondie!
Since Katelyn's birthday is in October, we're never quite sure what the weather will be here in New England. In the past, it's been cold and I just don't have the room to host a whole party in my house at this point. So, we held her party at a dairy farm super close to our house. We're so glad we found out that they did parties. It was so cute!
They provided the decorations. A cute cow theme.
We started off the party with a tractor ride to the barn.
The children then got to have a "tour" of the barn and learn how the dairy farm is run. It was pretty stinky in there as you can see by the children holding their noses!
Then it was back to their farm store for make-your-own-sundaes with their delicious ice cream! (Katelyn hadn't started making her sundae yet in this picture)
After the sundaes the kids did colorful sand art in milk bottles. So cute!
The kids holding up their finished art.
Then it was time for the last activity of the day. Milking "Hazel The Holstein".
Katelyn continues to be our adventurous go getter. She's doing so well with her homeschooling and reads like champ! She is sweet, funny and loves to talk shop with the adults. She's also doing soccer and AWANA and started Brazilian Jiu Jitsu a couple of months ago.  We are so thankful for our first born, big girl!
I love my two oldest and can't imagine my life without them. God has truly given  us great gifts in our children. I know that God has great things planned for their lives.
October 11th, 2011
Many of you have expressed an interest in knowing more about what a Homeschool Co-op is and what we do there! This is my second year of homeschooling and my first year of going to co-op. We've been going for about 5 or 6 weeks now and really like it!
I'll do my best to share with you how it works and what we do there.
Our co-op meets in a church nearby every Friday from 9:00 am -12:30pm. There are about 60 families that are a part of this co-op. We meet at the church, have opening ceremonies,worship and prayer, and then the children all break up into age appropriate classes for the morning. Co-op is  fun way to end the school week for me.  During registration the parents got to choose what "elective" classes their kids would get to be in at co-op. I was super impressed with the choices. There were art classes, music classes, language classes, science classes, poetry, girls literature and book club, Rocketry and Physics, Chemistry and Nutrition, New England Nature, geography and journalism. There is even a Chess Lab and Sewing class. These classes are all taught by moms who are part of the co-op and are assisted by other moms.  Really neat stuff! If you're child is  in grade 1-3 there was a list you could choose from to plan their morning. The K-1 class and under has a set schedule for the day. I chose to put Katelyn with the K-1 class because, even though she's in 1st grade and had the choice of more advanced classes, she's a young first grader and thought she would benefit from being with kids more her age. I couldn't see her memorizing presidents and capitals of states with the 1-3 grade classes yet!Her class does the Five In A Row curriculum and I love it. She also gets snack and gym time as well.
It is truly a "cooperative" in the sense that every parent has a job during co-op hours each week. Most moms are given the same class or two they will work in each week but are also expected to be flexible and help cover in another classroom if someone is out that day. We also take turns cleaning up after co-op is done. I have been assigned Preschool/Pre-K class (Which is Madelyn's class) each morning for 2 hours. I help with morning play time, story and craft. Then we have snack and gym time. Then it's my turn to "float". Every parent gets a "float" hour. Usually it's your free time to do whatever you want but you're expected to also be willing to help when needed during that time. During my float time I usually end up in the nursery  to see Jocelyn and chat with the wonderful moms working in there.
Here are some pictures I was able to take during our first week of co-op:
This is Maddy's class. There are four kids in her class. It's small but perfect for her since she has a hard time adjusting to new groups of kids. She is most definitely my loner! This picture was taken during free play time.
Here's the class doing an art project with Ms. Patt. She is a really cool person and I'm glad I get to work with her for most of the morning. She does a great job with the kids.
This is the only picture I've been able to get of Katelyn so far. I'm not with her AT ALL during co-op days so I rarely get the chance to snap a picture of her. She's finishing up her gym time here and playing tag.
This was Maddy's class's gym time. We share it with the toddler class.
We also have a support group that meets once a month where the moms can discuss different issues and borrow from the lending library. We have a yahoo group where we stay in touch and ask each other questions, post for sale or free items, ask for prayer, post interesting things pertaining to homeschooling and post field trip plans/ideas.Our co-op also plans several parties and family  events throughout the year.
I'm so glad we joined the co-op this year. It's been a great source of support for us and helps us get to know other families who are in the same situation we are. It's fun and interesting to see the different ways families "do" school and what curriculum they use. There are families in our co-op from all walks of life. It makes for an interesting group.
If you're a homeschooler I highly encourage you to find a homeschool co-op near you! I hope I answered any questions you guys had. If not, ask me more questions in the comments section and I'll answer them there.